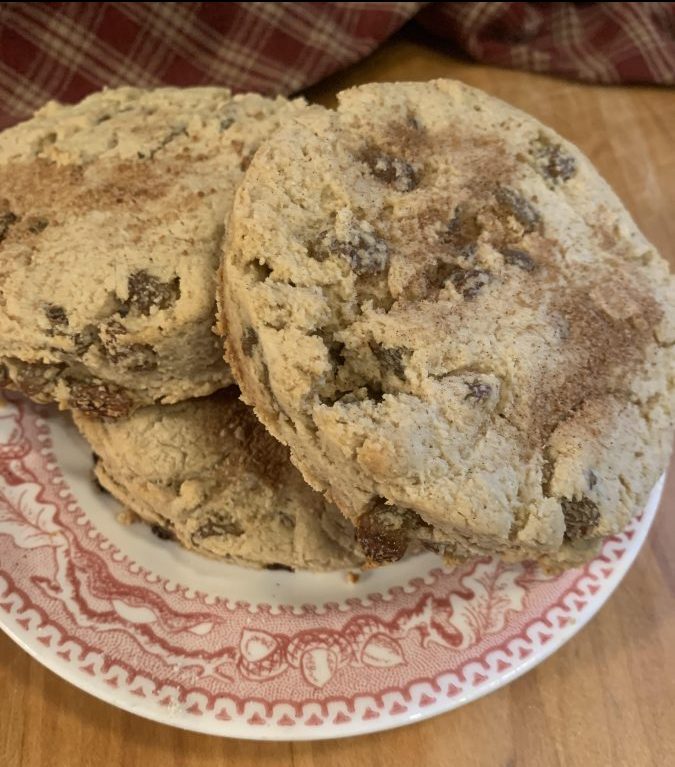 Oat Flour Raisin Scones
You can make these oat flour raisin scones with all-purpose flour. Just use 2 cups of flour and 1 tsp. of baking powder.
Ingredients
2 1/2 cups oat flour
1 tbsp. of baking powder
2 tbsp. of sugar (plus extra to dust)
1/2 cup butter – cold and cubed
1/2 cup sour cream
1 egg
1 cup raisins
Instructions
Preheat oven to 400.
Mix flour, baking powder, and sugar.
Using your hands, work the butter into the flour until it's a crumb-like mixture.
Mix in eggs, sour cream, and raisins.
Shape dough into a flat circle. Cut into triangles like scones are most often seen. Roll to about an inch thick and use a cookie cutter or mason jar lid to cut into circles.
Lay on a baking sheet. Bake until it turns golden brown.
Dust with sugar and cinnamon.