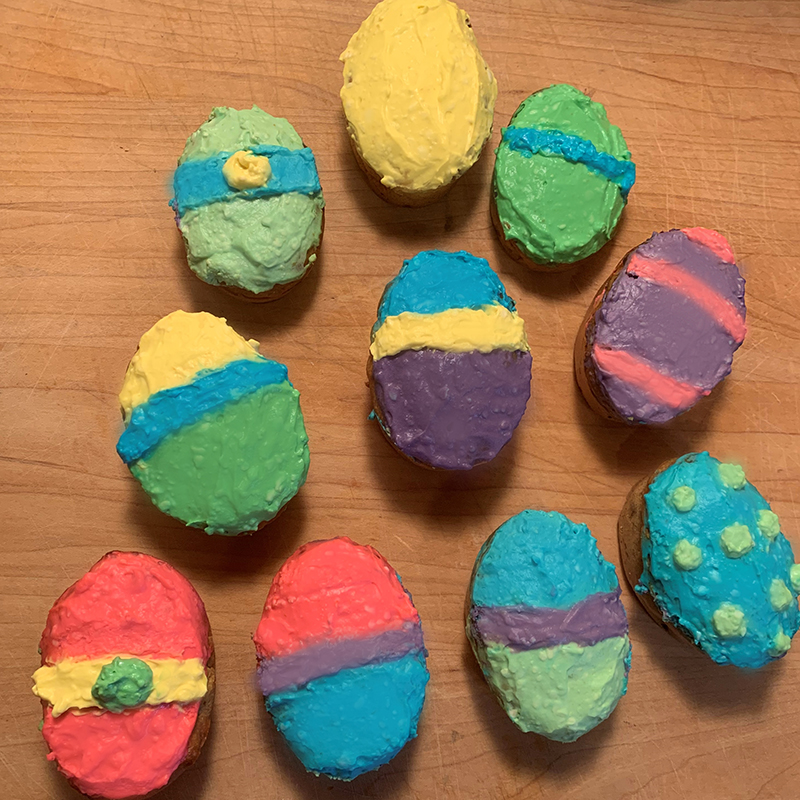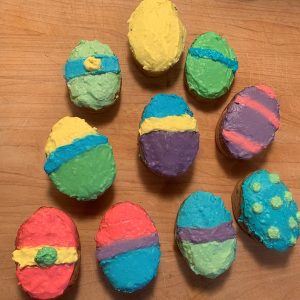 These carrot cake cupcakes made with rye flour, but you could easily make them with all all-purpose flour. I just like a little extra nuttiness from the rye.
Ingredients
1 cup rye flour
1 cup all-purpose flour
2 tsp. baking powder
1 tsp. cinnamon 
1 tsp. nutmeg
1 tsp. ginger
1 tsp. vanilla
3/4 cup sugar
2 eggs
1 cup sour cream
1 cup milk
1/2 cup butter (softened)
3 carrots, grated
1 cup raisins
Juice of two oranges
1/2 cup chopped walnuts or pecans
Directions
Pre-heat oven to 350 degrees.
Mix flours, spices, and baking powder. Set aside.
In another bowl, cream together butter, eggs, sugar, vanilla, sour cream, and milk.
Mix the flours in, stir.
Add raisins, pecans, carrots and orange juice. Mix thoroughly.
Spoon batter into cupcake papers or muffin tin. I found a baking mold with egg shapes.
Bake until cooked through, about 35 minutes. Allow cooling.
Cream Cheese Frosting
Ingredients
8 oz. cream cheese
1 cup whipping cream or heavy cream
1 tsp vanilla
1/4 cup powdered sugar
Zest of two oranges
Food coloring (optional)
Directions
While the carrot cake cupcakes cool, mix your cream cheese frosting.
Using a hand mixer, blend cream cheese, cream, vanilla, powdered sugar, and zest.
If using food coloring, divide into small bowls and mix with a few drops of the desired color.
Frost cupcakes as artistically as possible.