Orange & Vanilla Bean Panna Cotta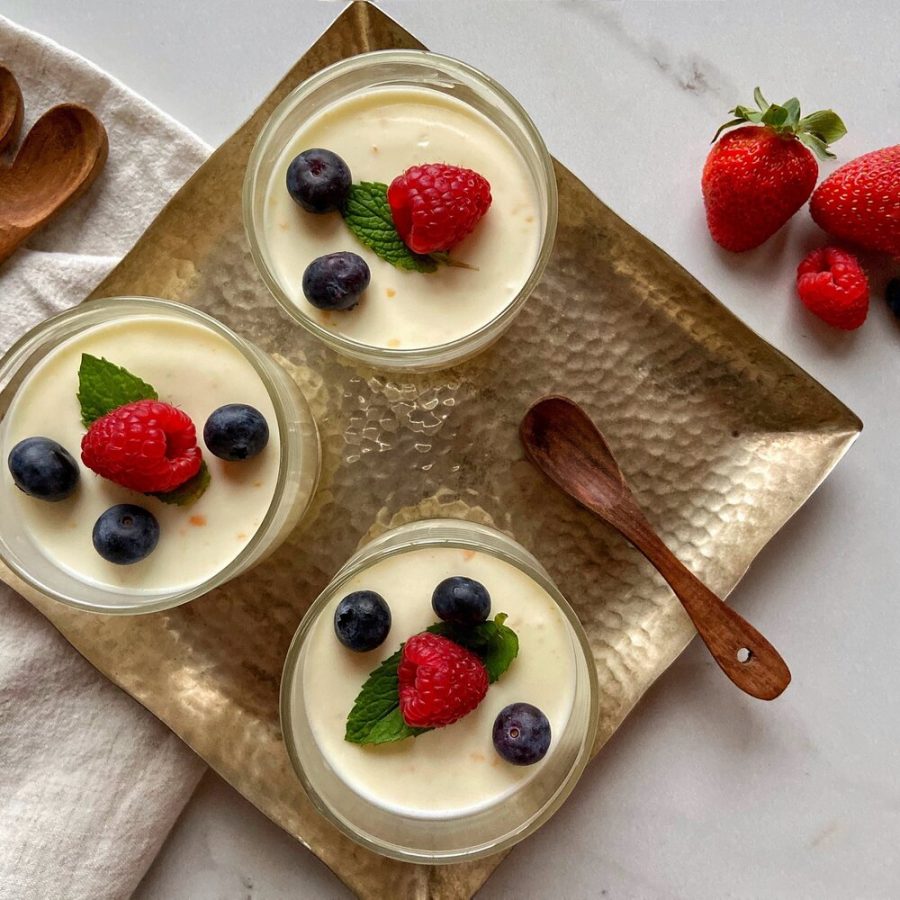 Panna cotta is an Italian dessert. It is somewhat similar to a custard dessert like creme brûlée. Only it is much easier to make because it's thickened with gelatin instead of eggs.
I love the versatility of flavors possible with panna cotta! You can try another variety of citrus in this recipe, or just keep it classic vanilla!
Orange & Vanilla Bean Panna Cotta
Recipe by Andrea Paul, RD in partnership with Maine Dairy and Nutrition Council
Serves: 6 
Ingredients
1 ½ teaspoon unflavored gelatin 

3 tablespoons water 

1.5 cups plain whole-milk Greek yogurt 

1 cup heavy cream 

¼ cup white sugar 

1 vanilla bean, seeds removed 

Zest of 1 medium to large navel orange 
Berry Compote (Topping Optional) 
2 cups fresh or frozen mixed berries 

3 tablespoons white sugar 

2 teaspoons corn starch
Directions
Add gelatin to water in a small bowl. Set aside to allow it to bloom. No stirring required. 

In a medium saucepan, combine ½ cup of cream and sugar. Heat over medium-low heat, stirring occasionally until the sugar is dissolved, and the liquid just begins to simmer. Remove from heat and whisk in gelatin. Add vanilla bean seeds and orange zest and whisk. 

In a large bowl, mix together yogurt and the remaining half cup of cream. Add warm cream mixture and whisk together until combined. 

Pour or spoon into six small glasses or ramekins. Divided evenly, each glass should get just over ½ cup of the mixture. Refrigerate for at least 4 hours, until set.
To make the berry compote:
Add berries, sugar, and a splash of water to a saucepan. Heat on medium heat until the mixture starts to bubble.

Use a fork or potato masher to mash up the berries, then whisk in the corn starch. Remove from heat. Allow it to cool for approximately 30 minutes before using it to top the panna cotta.
Recipe Notes
We recommend vanilla beans because of the extra visual interest they provide and taste. However, feel free to substitute with vanilla extract. About 2 teaspoons should do the trick!

The panna cotta should be entirely set before topping with the berry compote.