Orange Cranberry Mascarpone Jelly Roll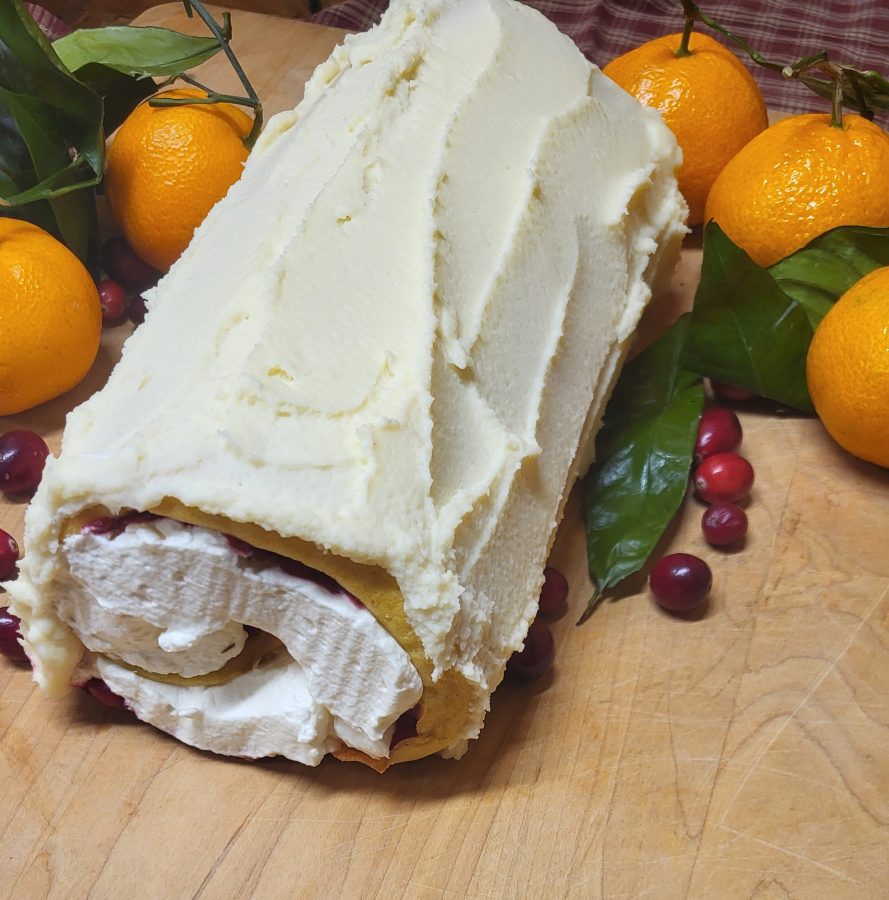 Orange Cranberry Mascarpone Jelly Roll
I used Satsuma Mandarin oranges for this rather than your usual navel orange, so I used the zest and juice of three oranges. If I had larger ones, I would have only done 2, BUT I liked the leaves still attached to the Satsumas to make the cake presentation a little more festive.
For cake
1 1/2 cups flour
1 tsp baking powder
2 tsp cardamom
1/2 cup honey
1/2 cup or 1 stick butter melted
1 tsp vanilla
6 eggs
2-3 oranges depending on size
Cookie sheet with parchment paper
For filling
2 cups whipping cream
1 cup mascarpone
1 tsp vanilla
2 tsp orange flavor oil (optional, could zest another orange)
1/3 cup powdered sugar
1/2 tsp cream of tartar (not necessary, but whipped cream will be more stable).
For cranberry sauce
1 12 Oz bag cranberries
Water or orange juice to cover bottom of pan
2 Tbsp honey
For frosting
8 Oz white chocolate
1/2 cup whipping cream or heavy cream
1 cup mascarpone
Preheat oven to 350. For your sponge cake, separate egg whites from yolks. Add your melted butter, vanilla, honey, and zest and juice from oranges to egg yolks and mix. In another bowl, mix flour, baking powder and cardamom and then add to egg yolks mixture. Whip egg whites until peaks start to form and fold into batter.
Lay a sheet of parchment paper onto your cookie sheet at then pour batter on, leveling out on the sheet. Bake for about 20 minutes or until baked through, just starting to get golden.
Once cake cools enough that you can touch it but is still warm, gently roll the cake into a log shape without removing the parchment paper and put in the freezer until completely cooled.
In a saucepan on medium heat, cook your cranberries in just enough water or OJ to cover the bottom of your pan, add honey. Constantly stir the cranberries to make sure they don't burn. As they soften, smush the cranberries with your spoon, continuing to stir. Remove from heat, put in a bowl and refrigerate.
Put white chocolate (I used chips) in a microwave safe bowl and heat in microwave until chips begin to soften (about 1 minute or less). Heat cream on stove top until hot. Pour cream over chocolate chips and stir until melted, add mascarpone and place in fridge to cool.
Whip cream, vanilla, orange flavor and sugar until it begins to stiffen, add mascarpone and whip together until incorporated.
Take cake and roll out onto flat surface. Spread cooled cranberry sauce over it and then a thick layer of your whipped cream and mascarpone. Gently roll your cake back up without the parchment paper. Take your cooled frosting out of the fridge and spread over your jelly roll or yule log.