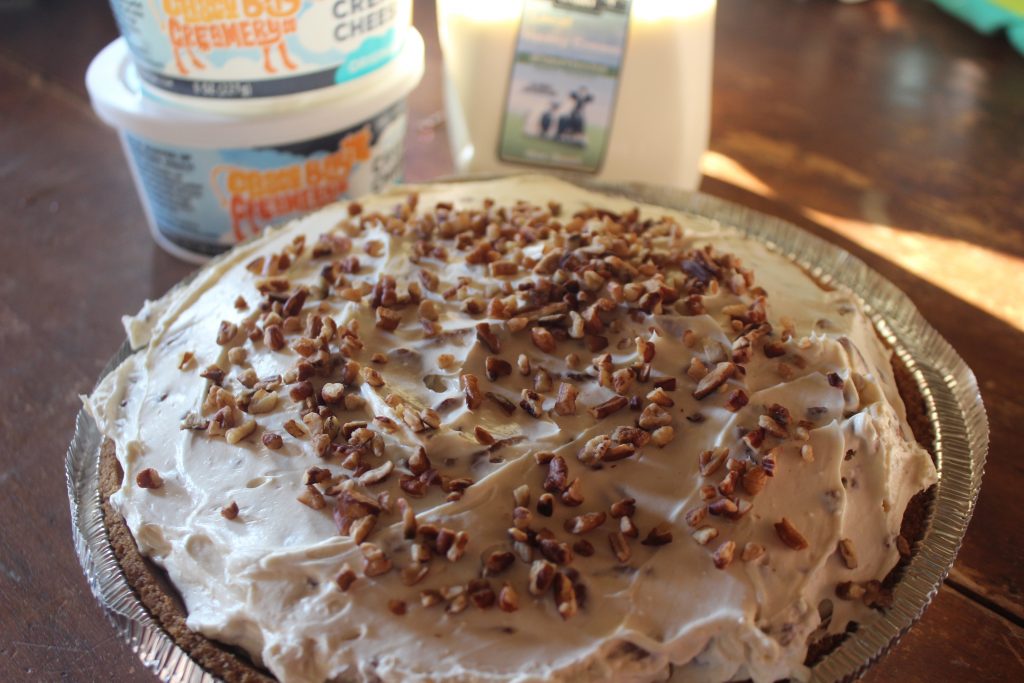 This Maple Pecan Cream Pie is adapted from this Together as Family recipe – mainly I just did away with the powdered sugar and brown sugar and just used maple syrup because this is Maine!
Maple Pecan Cream Pie
2 8 oz Cream Cheese (I used Casco Bay's whipped cream cheese)
1 1/2 Cups Heavy Cream
1 tsp vanilla
1 1/2 + Cups Chopped Pecans (you could use walnuts instead)
1 cup Maple Syrup
1 9″ pie crust (your choice)
Place bowl for whipping cream and beaters in the freezer for at least 15 minutes. Whip your cream until stiff peaks form – just shy of making butter. Whip cream cheese in a separate bowl until smooth and then fold in the whipped cream. Add walnuts, maple syrup and vanilla. Use beaters to whip together until mixed well. Scoop into your pie plate and smooth over with a rubber spatula.
The original recipe said to refrigerate for up to 8 hours, but this pie could have been eaten immediately. I just gave it a couple hours in the fridge to settle into the crust. There was also a little extra filling leftover, so pick up some graham crackers for a yummy snack so that you aren't tempted to cut into the pie before your guests arrive.