Herbed Ricotta & Delicata Squash Flatbread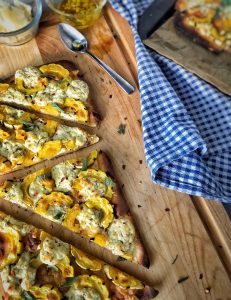 Recipe by Andrea Paul, RD. in partnership with Maine Dairy & Nutrition Council
Serves: 8 (appetizer), 2-4 (meal)
Ingredients
2 pre-made rectangular flatbread or 4 oblong naan
¼ cup olive oil
2 large cloves garlic, minced
1 medium delicata squash
¾ cup ricotta cheese
zest of ½ lemon (approximately 1 tablespoon)
½ cup shaved parmesan, loosely packed
1 teaspoon dried parsley
½ teaspoon dried oregano
½ teaspoon dried rosemary
¼ teaspoon ground black pepper
¼ teaspoon salt
¼ teaspoon red pepper flakes
4-6 leaves fresh sage, chopped (optional)
 Directions
Preheat oven to 375 F. Lay your flatbread on a baking sheet.
Cut the stem off of delicata squash and slice the squash lengthwise. Remove the seeds with a spoon. Slice to make semi-circles that are approximately 1/4 inch thick. Set aside.
In a large bowl, mix minced garlic, olive oil, and 1/8 teaspoon of salt. Lightly brush the top side of flatbread or naan with garlic oil.
Add the cut squash to leftover oil and toss to coat.
Mix ricotta cheese, lemon zest, dried herbs, black pepper, and remaining salt in a bowl. Set aside.
Divide and sprinkle parmesan cheese evenly over each flatbread.
Arrange squash on flatbreads, leaving space between each slice. Spoon ricotta mixture in dollops, between squash slices.
Bake on the middle oven rack for 20-25 minutes, until squash is fork-tender.
Turn oven to broil and cook for 2-4 minutes longer. This step browns and caramelizes the squash. Keep a close eye to watch that the corners of the flatbread don't burn!
Once out of the oven, sprinkle with red pepper flakes and chopped sage (optional). Cool for a few minutes, slice into triangles, and serve immediately.
Recipe Notes
If you turn the oven to broil, the edges of the flatbread are already well-done, covering the edges with small pieces of tinfoil to keep them from burning.
Alternatively, you could use another kind of winter squash other than delicata. It would just have to be roasted to al-dente before going on the flatbread.