Cranberry, Rosemary & Sharp Cheddar Scones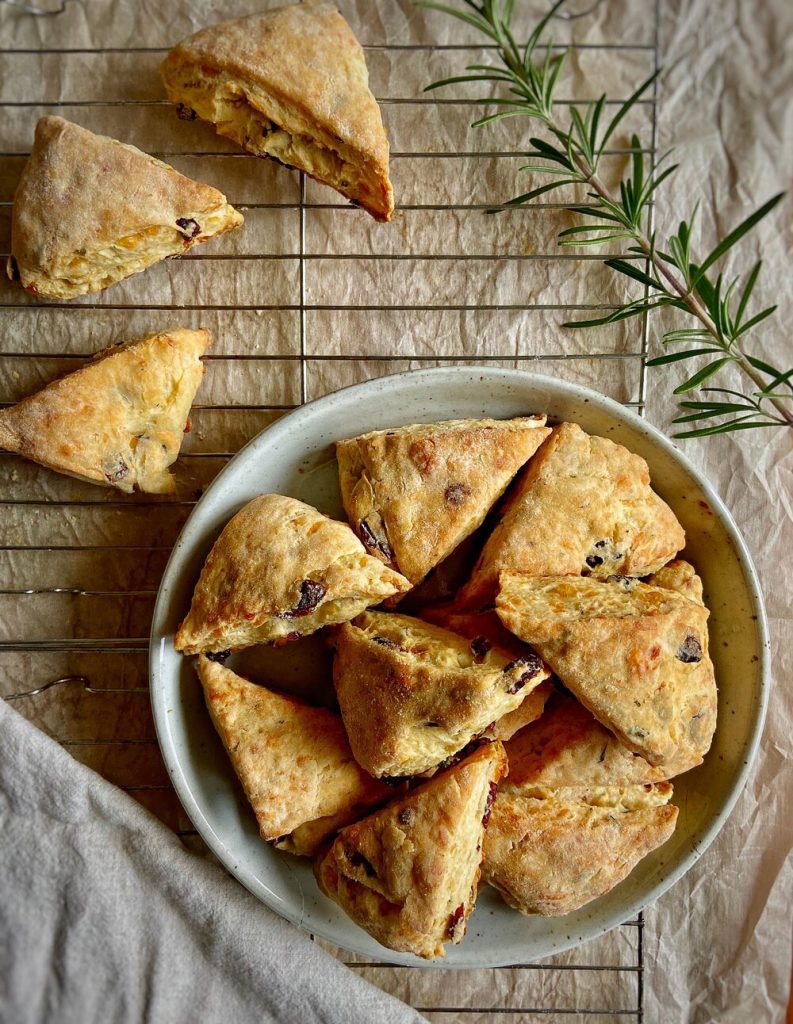 Recipe byAndrea Paul, RD in partnership with Maine Dairy and Nutrition Council
Makes: 16 scones
Ingredients
-2 cups all-purpose flour
-½ tsp salt
-2 tsp white sugar
-1 tbsp baking powder
-½ cup (8 tbsp) cold salted butter
-1 tbsp roughly chopped fresh rosemary or 1 tsp chopped dried rosemary
-½ tsp mustard powder
-1 tsp cracked black pepper
-1 large egg
-½ cup plain yogurt
-½ cup dried cranberries
-1 cup shredded extra sharp cheddar cheese
Directions:
Mix flour, salt, sugar, and baking powder in a large bowl. Slice butter into chunks and add to flour mixture. Using your hands, rub butter into flour, until the butter is in pea-sized crumbs, and the mixture is the texture of damp sand.
Stir in rosemary, mustard powder and cracked black pepper.
Whisk egg and yogurt together in a small bowl and drizzle it over the flour mixture. Add cheddar cheese and cranberries. Mix gently until cheese and cranberries are dispersed and everything appears moistened.
Turn out onto a clean and floured surface. Flour your hands and bring dough together, aiming to not over-mix. Place dough back into bowl, cover and place in the fridge.
While dough is chilling, preheat oven to 375°F and line a large baking sheet with parchment paper.
Place chilled dough on flour surface and cut into two equal parts. Roll out dough halves into rough rectangles, and fold into thirds. Repeat this process 1-2 more times. Fold into thirds once more. At this point, the dough should be fairly easy to shape into a square. Roll dough until approximately ½ – ¾ inches thick and cut into triangles. Arrange evenly on baking sheet.
Bake for 22-27 minutes until scones are lightly browned on top.
Cool and serve, or store in an airtight container in the fridge for up to week.
Recipe notes:
– There are two steps outlined here that I've found help to ensure that the scones will rise well. First is chilling the dough, as outlined in step #4. The second is rolling out and folding the dough into thirds multiple times. These two techniques have worked for me, however if you have your own tried and true way of making scones, I encourage you use your method!