Blueberry Sunshine Trifle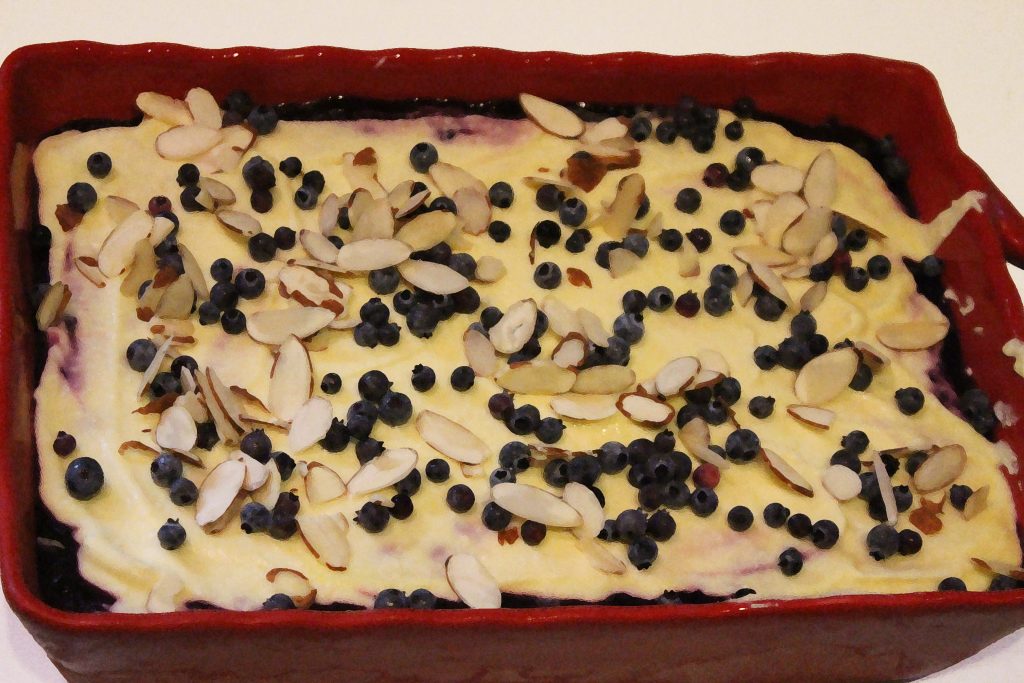 This is kind of a trifle but not really. Kind of an icebox cake but not exactly. I can't take credit for the name. That goes to a dairy farmer, Jenni Tilton-Flood.
I was trying to think of something that incorporated all the ingredients. Each is delicious in their own right, but not conducive to a great name. This trifle icebox cake thing starts with a layer of lemon cookies crumbled and smooshed in the bottom of the pan.
I used a soft cookie, but if you use more of a snap, add melted butter to the crumbles to get it to stick together. The cookies are followed by a thick layer of ricotta, Greek yogurt, and lemon curd. Then, it's followed by a layer of wild blueberry compote, another layer of yogurt, ricotta, curd mixture, topped with blueberries, and almond slices
The first step was making the blueberry compote, which is super simple. At the same time, I made the lemon curd. It's simple but still a lot of effort.
It was kind of like childbirth. By the time I was zesting and squeezing the sixth lemon, I was like "I can't do this anymore!" But I persevered. In the end, the beautiful product was worth all the effort.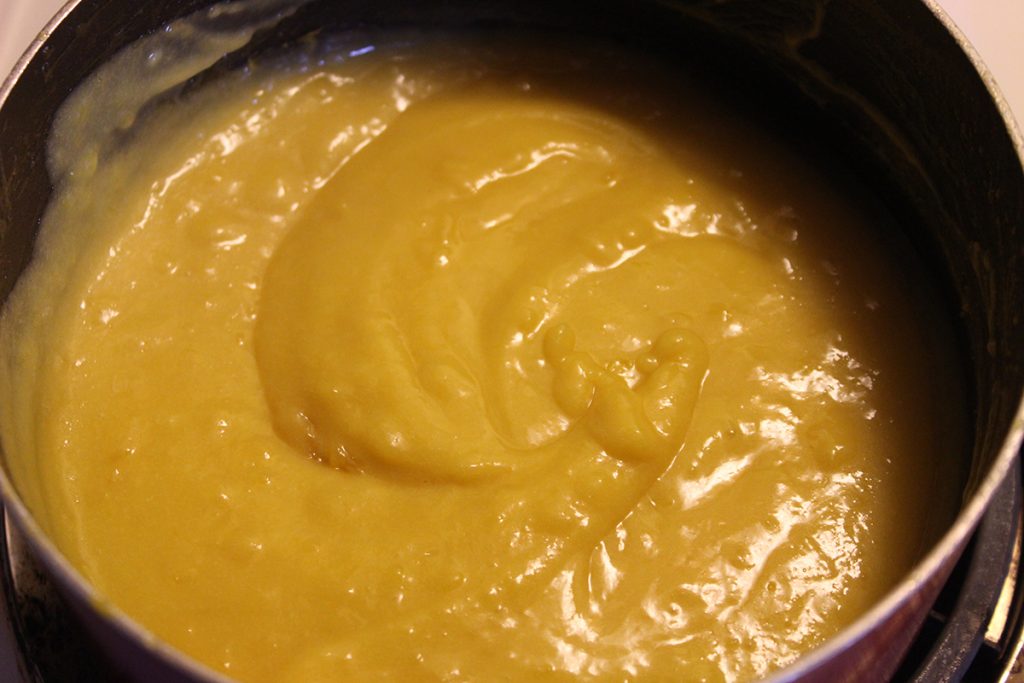 Lemony, buttery, tart lemon curd. The rest was easy peasy mixing and layering.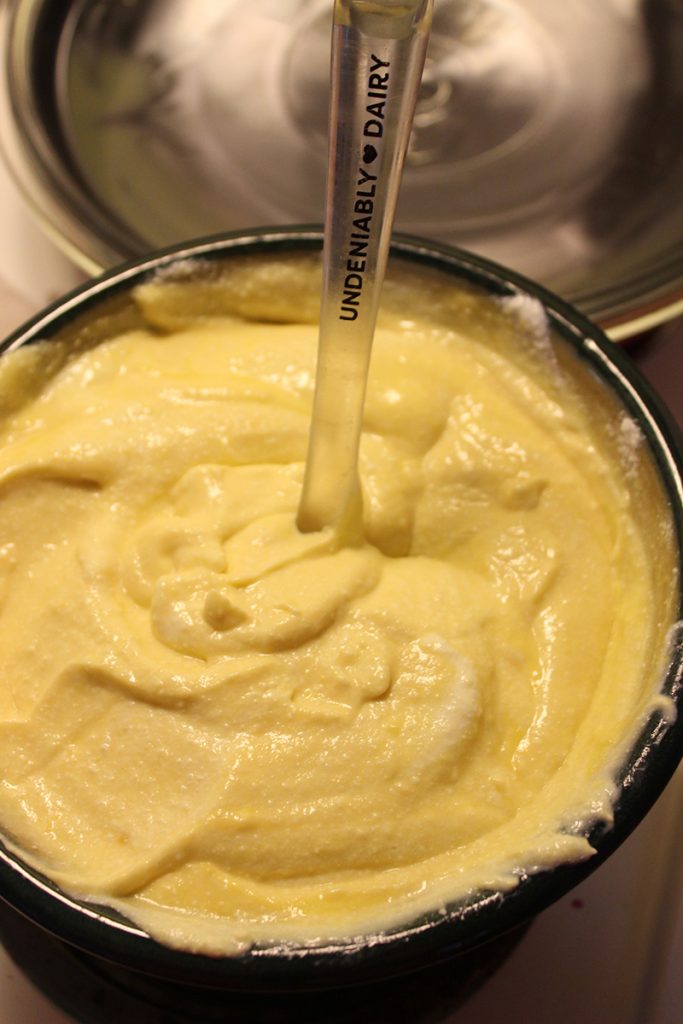 Undeniably Dairy with equal parts Ricotta, Greek Yogurt, and Lemon Curd.
Ingredients & Instructions
For the Blueberry Compote 
3 cups fresh or frozen wild blueberries
1/4 cup water
1/4 cup sugar
1.5 Tbsp. corn starch
In a saucepan over medium heat, cook your blueberries with just enough water to keep them from burning on before they start to juice. Stir frequently. As they start to juice and you have a nice amount of liquid, pour off some of the juice into a small dish.
Whisk in your corn starch, making sure there are no lumps. Once that is done, pour the liquid back into the saucepan and stir into your blueberries. Continue to cook until your berries start resembling a loose jam or jelly.
You don't want it runny, let it cook long enough to start getting thick. It will continue to thicken as it cools. Fully cool in the refrigerator for an hour or so.
For the Lemon Curd
6 small to medium lemons (enough for 1 Tbsp. of zest and 3/4 cup of lemon juice)
4 eggs
3/4 cup sugar
1/2 cup or 1 stick of butter cubed
Zest lemons until you have 1 Tbsp. for the curd. Any extra can be used as a garnish on top once the trifle is complete. Squeeze juice from lemons.
Whisk eggs in a bowl, making sure the yolks are broken and fully incorporated with the whites. Put lemon juice, zest, and sugar in a medium saucepan over medium-low heat. Mix until sugar dissolves.
Add in eggs, whisk together, add the cubed butter, and mix in until melted. Continue to whisk until the curd thickens so that tracks from the whisk are visible and stick. Cool completely in the refrigerator. It makes about 2 cups.
For the Rest of the Trifle
8 oz of lemon cookies*
2 cups ricotta
2 cups Greek yogurt
Fresh blueberries and sliced almonds for decoration
Crumble cookies, adding melted butter if needed to make them stick together, and press in the bottom of a 9 x 13 pan. Fold your ricotta, Greek yogurt, and lemon curd together. Pour about 1/2 over the cookies.
Smooth out evenly. Spread the blueberry compote out as your next layer. Top with the remaining lemon curd/yogurt/ricotta mixture.
Put in the freezer for 2 to 3 hours. You want it firm but not frozen solid. Garnish the top with blueberries and sliced almonds when ready to serve.