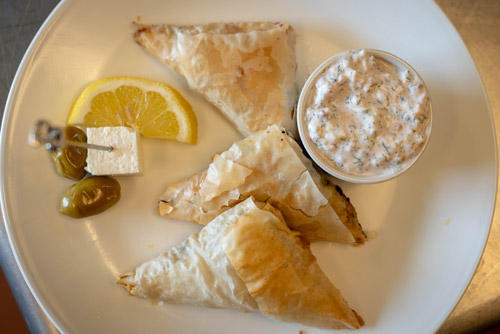 Veggie Dip Ingredients
16 oz. plain Greek yogurt
3 tablespoons dried parsley
1 teaspoon garlic powder
1 teaspoon onion powder
¼ teaspoon pepper
½ teaspoon salt
1 teaspoon dried basil
1 tablespoon green onion
Instructions
In a medium-size bowl, combine Greek yogurt, dried parsley, garlic powder, onion powder, pepper, salt, dried basil, and green onions. Mix until well combined.
Serve this veggie dip with your favorite in-season raw vegetables.
Aegean Spinach Beet Triangles with Parsnip-Tzaziki Sauce
2019 "Create it Maine" Recipe Contest Winner by Billy Doukas
Ingredients
1 lb. of swiss chard (spinach beet)
3 medium Shallots
4 oz. of butter
2 oz. olive oil
8 oz. of feta cheese
8 oz. of ricotta cheese
2 fresh eggs
dill spice
1 lb. of phyllo dough
2 oz. lemon juice
Aleppo pepper and salt
Tzaziki Sauce
8 oz. of Greek yogurt
2 oz. sour cream
1 large cucumber
1 large parsnip
3 chard stems
dill spice
salt and pepper
Instructions
Wash and dry swiss chard, cut away stems and chop chard leaves with a knife into 1" square pieces. Shred stems and set aside for use with tzatziki sauce.
Finely chop shallots and mix with crushed garlic cloves. Sautee in butter and olive oil while adding Aleppo pepper and salt. Cook thoroughly and add chard leaves for 4-5 minutes on medium heat.
Allow to cool to room temperature, then add feta and ricotta cheeses and beaten eggs.
Melt butter in a saucepan and allow phyllo dough to thaw. Preheat oven to 350 F.
Lay down the phyllo sheet and cut lengthwise into fourths. Place one tablespoon of greens and cheese mix at end of the phyllo strip. Fold the 1st corner over and then continue as if folding a flag. Dab butter throughout the process.
Place triangle at end of 2nd phyllo strip and repeat folding. Dab butter on top and place on cookie sheet.
Bake triangles for 20-25 minutes or until golden brown. This recipe makes 25-30 pieces.
Tzatziki Sauce:
Peel, seed, and shred cucumber and place in a colander to drain. Peel and shred parsnip.
Combine shredded cucumber, parsnip, and chard stems. Finely chop shredded mix on a cutting board.
Add dill weed, garlic, salt, and pepper to the vegetable mix and allow to sit.
Add greek yogurt, sour cream, lemon juice, and mix thoroughly.
Serve chilled or room temperature alongside baked triangles. You can also have these with the veggie dip.