Summer's finest – make the most of strawberry season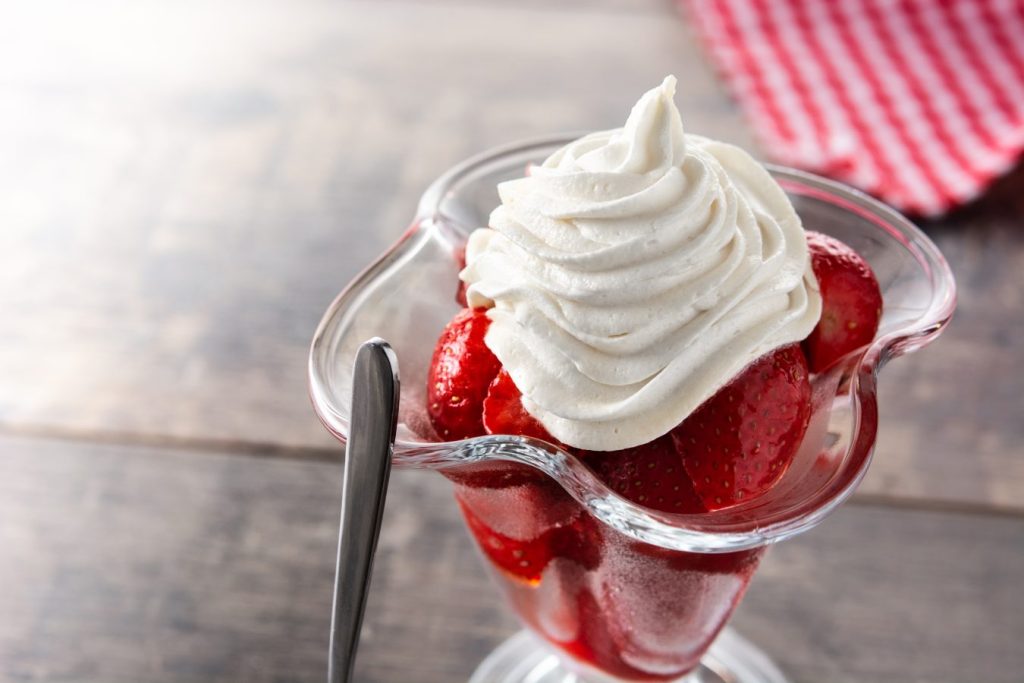 I stock our fridge with strawberries year-round – the main reason being that if I can't get my 4-year-old to eat much else that is nutritious on any given day, I can at least get her to eat strawberries. They are an excellent source of Vitamin C as well as offering fiber, potassium, magnesium and even some iron.  As they do not provide much for calories, I try to pair strawberries with some yogurt or cheese curds or tempt her with a whole wheat wrap rolled up with cream cheese, peanut butter and sliced strawberries. And spinach is much more palatable when paired with strawberries in a smoothie.
I love strawberries myself, and by the time spring rolls around, I have even convinced myself that the berries from the other side of the country that I have been buying at the grocery store all winter are almost as good as those from Maine. But then … THEN around about mid-June to early July, the local strawberries are in-season, and each year, I am blown away by how sweet and delicious they are. I know Maine is known for its wild blueberries, but it's the strawberries that make me do a little dance every time I eat them.
My daughter is elated when she finds a bunch of the teeny, tiny, incredibly sweet, wild strawberries, but it takes a long time to gather enough for much more than a single serving of strawberry shortcake. Although picking them can be a nice way to keep the kids busy for a while. I prefer to go to a pick-your-own strawberry farm on a gorgeous, sunny, warm summer day. It's really special when I can take my daughter to pick with my mother and grandmother, and we fill several flats of strawberries. But then, once you get home, there's always the rush to process them before they get soft and mushy. Most of the strawberries have their tops removed and go into quart bags to be frozen within the first day or two, but we have found that if you can put the berries into large mason jars, you can keep fresh strawberries in the fridge for several days.
The strawberry season is fast and furious, lasting a month at the most, but those fresh berries can be enjoyed in so many ways. They can be used to top your breakfast cereal, yogurt, or even cottage cheese for a protein-packed snack, or added to overnight oats. One of my favorite ways to use strawberries is in a salad with fresh spinach and cashews, usually with a raspberry vinaigrette and topped with feta cheese.
If you'd like to take your strawberry shortcake to the next level, try this Strawberry Shortcake Layer Cake recipe from usdairy.com:
For the Cake
1 Cup (2 sticks) unsalted butter at room temperature
2 Cups granulated sugar
3 Cups cake flour, sifted
1 Tbsp baking powder
1/2 tsp salt
1 1/4 Cup milk
4 large eggs
2 tsp vanilla extract
For the Strawberries
1 quart fresh strawberries, slices
2 Tbsp granulated sugar
1 Tsp vanilla extract
For the Whipped Cream
2 Cups heavy whipping cream
1/4 Cup granulated sugar
1 tsp vanilla extract
-Preheat oven to 350°F. Line two 8- or 9-inch round cake pans with parchment paper. Butter and flour the parchment paper to keep the cakes from sticking. In bowl of electric mixer, beat butter and sugar on high speed until pale and creamy, about 3-4 minutes, scraping down bowl as necessary. In medium bowl, combine cake flour, baking powder and salt. In another bowl, whisk together milk, eggs and vanilla extract. Add flour mixture to butter mixture in 3 additions, alternating with milk mixture and ending with flour mixture. Scrape down bowl between each addition.
Divide batter between two prepared cake pans and bake until tops are barely golden brown and spring back when lightly touched, about 30-35 minutes. Let cool in pan 10 minutes, then transfer to wire rack to cool to room temperature. Cover cake layers with plastic wrap and refrigerate for at least 1 hour and up to 2 days.
When ready to assemble cake and serve, prepare the strawberries. Toss sliced strawberries, sugar and vanilla extract in bowl and let sit for 20 minutes. To prepare whipped cream, use electric mixer to beat whipping cream, sugar and vanilla extract to medium peaks.
Remove chilled cake layers from refrigerator and use small knife to score each layer in half horizontally. Then use a large, serrated knife to slowly cut all the way through each layer, using scored line as a guide. Place one cake layer on cake plate or stand. Cover with 1 cup whipped cream and one quarter of strawberry mixture. Repeat with remaining cake layers, whipped cream and strawberries.
Once frozen, strawberries can be used for frozen yogurt pops or the following milksicle recipe: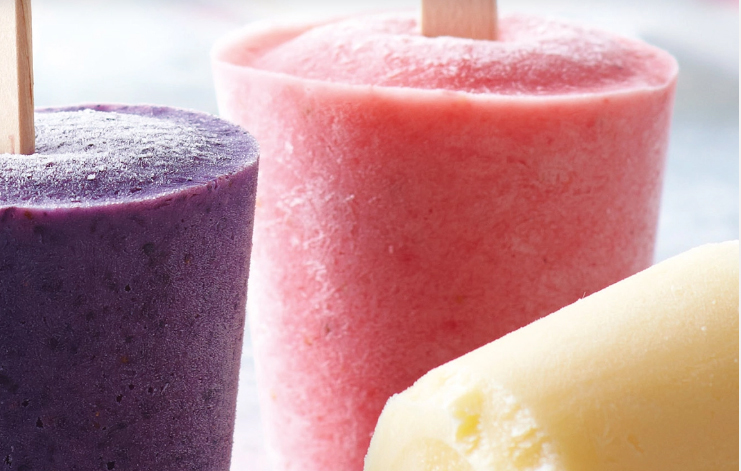 Double Strawberry Milksicles
Ingredients
1 rounded cup of frozen strawberry halves.
1 cup whole milk
½ cup strawberry frozen yogurt
12 (3‑ounce) plastic or paper cups and 12 wooden craft sticks or 12 (2‑ounce) freezer pop molds
Instructions
Partially thaw the strawberries by leaving them at room temperature for 10 minutes.
Place the partially frozen berries with their liquid in a blender. Add the milk and frozen yogurt. Cover and blend until smooth. Divide among twelve cups or freezer pop molds. Place the cups in a 9 by 13‑inch baking pan. Cover each cup with aluminum foil. Push a craft stick through the center of the foil to hold the stick in place while freezing. Freeze until firm, 3 to 4 hours.
Ever thought of putting cauliflower in a smoothie? Don't knock it until you've tried this delicious strawberry smoothie:
Ingredients
2 cups frozen strawberries
1/2 cup frozen cauliflower
1 1/3 cup milk
1/2 cup vanilla yogurt (or plain and add some vanilla)
2 tbsp honey
Instructions
Place all of the ingredients into a blender and puree until smooth
Pour smoothie into a glass