10 THINGS I LEARNED FROM DAIRY FARMERS IN MAINE
By Amelia Sullivan, BS, Maine Dairy and Nutrition Council Dietetic Intern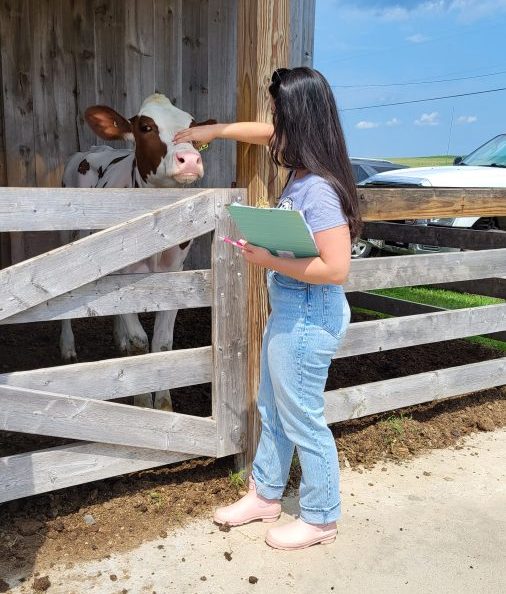 As a Dietetic Intern, you learn several unique things – like how to write a nutrition support prescription or how many FTEs you may need if you're a manager. Each day in the internship is a new day full of the potential to learn and grow, and here are 10 things I learned from dairy farmers across the state of Maine that I think everyone should know, regardless of their occupation.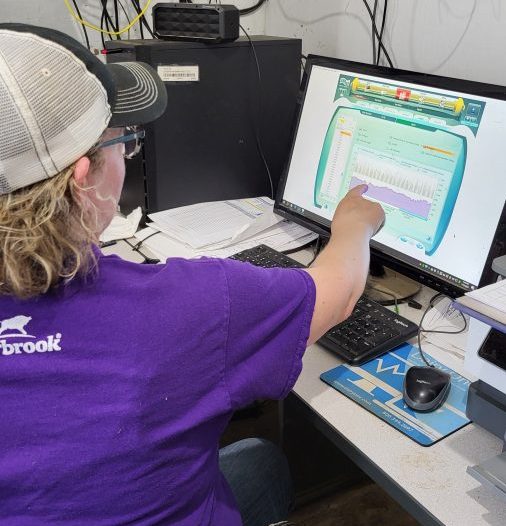 #1 FARMERS ARE DATA-DRIVEN.
Dairy farmers are working hard to produce milk and increase efficiency while they're at it. Farmers are incredibly data-driven. At Brigeen Farms in Turner, 10th-generation farmer Betsy tells me, "If you can't measure it, you can't control it." Betsy uses innovative technology at her farm to improve milk production efficiency. She showed me collars that work like fit-bit-like devices on her cows that utilize a microphone to monitor activity, such as chewing and even panting, a sign the cow may be overheating. Betsy can track several data points from her computer and phone to ensure cow's health is optimal and milk production is efficient.
#2 MILK PRODUCTION IS SAFTEY BASED.
I was shocked to see how much safety and regulation goes on behind the scenes of dairy production. First and foremost, cow health is a priority. Of all the farms I visited, each farm has a veterinarian they work with closely. Keeping cows healthy is a principle in producing optimal milk. But milk production safety goes far beyond the health of the cows. Parlor rooms are kept in top-notch shape, and milk is transported from the cow udder to the holding tank via a closed system. Meaning nothing can get in or out of the milk supply. Additionally, the milk is sampled for testing each time the truck comes to pick it up, not to mention it is constantly temperature regulated. The milk is tested once it reaches the milk plant to ensure no antibiotics are in it.
#3 COWS FORM HABITS.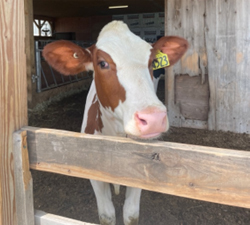 Cows are adorable. They look like gigantic dogs and are just downright loveable. Nevertheless, don't let them fool you, cows are type A. Cows form habits and routines that they like to stick to, and they actually can be quite sassy when things don't go their way. Don't believe me? Just ask any dairy farmer, and they will tell you.
#4 WORMS (AND SOIL HEALTH) IMPACT EVERYTHING.
Worms hold all the secrets to the Universe. I'm just kidding, but they are very important in terms of soil health. Fourth-generation farmer, Bob Folger, educated me about the importance of worm presence, "Worms tell me that I have all the other biological life I'm looking for." Worms eat organic matter, so the presence of worms indicates your soil is healthy. However, Bob is doing a lot more than looking for worms. Bob looks at the percentage of organic matter in his fields to gauge soil health. He has a vision of improving his soil health and having a record crop by 2040 thanks to practices like no-till and cover crops. Organic matter helps to increase the soil's water-holding capacity, decreasing mud and erosion and improving the soil's overall health. Farmers like Bob rely on their crops to feed their cows. If the cows aren't fed, there is no milk. It really is full circle in dairy farming.
#5 THERE ARE NUTRITIONISTS FOR COWS.
Just as there are nutritionists for people (please call people nutritionists dietitians), there are nutritionists for cows. You may find it surprising to know that cows are particularly picky eaters. That's why some farmers, like those at Brigeen Farms, feed their cows a Total Mixed Ration (TMR). A TMR is essentially a diet, or feed, that provides the cows with all the nutrition requirements they need to be healthy and produce milk efficiently (this way, cows can't pick out just the good stuff!) Cow nutritionists will identify what components need to be in the TMR, and additionally, they may test available forages and make recommendations based on nutritive values for cow meal plans. The nutritionist who works for Brigeen Farms can even make adjustments to the TMR from their computer at home, depending on the cow's needs!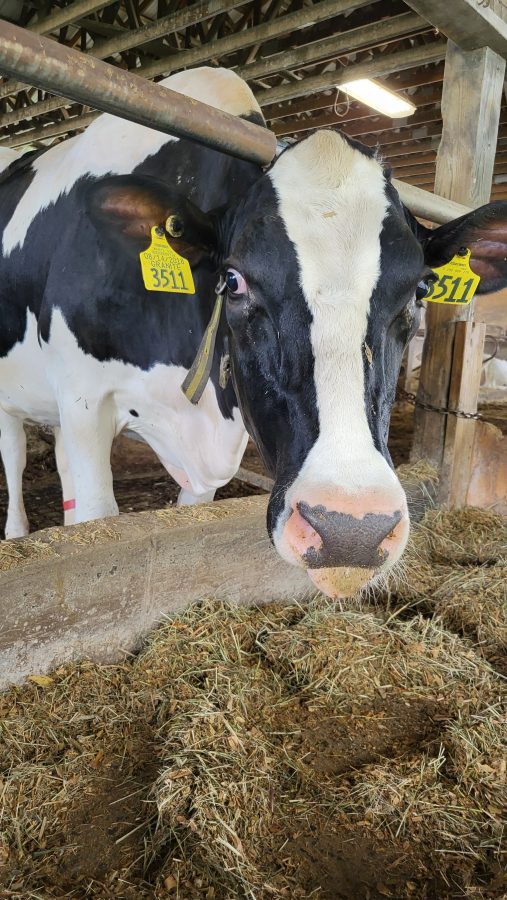 #6 FARMERS TAKE COW GENETICS VERY SERIOUSLY.
One thing I will say, genetics is serious business for dairy farmers. From Rustlewood Farm in Kittery to Brigeen Farms, and Stonyvale Farm in Exeter, all these farmers are looking at the same thing, the genetic assay of potential bulls. Most farms utilize artificial insemination, which allows farmers to be very strategic about the genetic assay of their cows, which in return can increase milk production efficiency and make a more environmentally sustainable cow.
#7 COWS HAVE A SUPERPOWER.
Betsy of Brigeen Farms told me that cows have a superpower. The superpower lies within their stomach, and it's called the rumen. Cow rumens have powerful fermentation powers due to special microbes found in the cow rumen, giving them the ability to digest high levels of fiber the human body could never handle, and that is their superpower. Cows eat the entire corn stalk, not just an ear of corn, and they can draw nutrients from something like spent grains from brewing beer that might otherwise end up in a landfill.
#8 COW MANURE AND FOOD WASTE CAN BE TURNED INTO ENERGY.
Stonyvale Farm is home to the only methane digester in Maine. The digester acts as a renewable-energy process converting animal and food waste into methane. The digester takes about 75 percent cow manure and 25 percent food waste. They get food waste through waste procurement companies that collect from Portland, Maine restaurants, Hannaford Supermarkets, Mass General, and even Amazon. Lab data reveals how much to feed the digester and how to keep the microbiome happy. The digester has a 28-day retention period, and after, they are left with a gas component (methane) used for energy, a solid component used for cow bedding, and a liquid component utilized in the crop fields.
#9 ONE COW CAN PRODUCE MORE THAN 10 GALLONS OF MILK IN A DAY.
Maybe this is common knowledge, but cows are quite literally milk-making machines. One large Holstein (the black and white cows) can make anywhere from 10-12 gallons of milk a day. Doesn't that seem like a lot of milk? Farms like Stonyvale are producing 10,000 gallons of milk a day!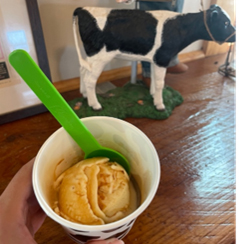 #10 AFFOGATO IS AMAZING.
Affogato, have you ever heard of it? I hadn't until recently when I visited Brigeen Farms. The family recently opened Canty Cow Creamery. They offer small batches of homemade frozen custard made with milk from their cows, and one of the options on their menu is affogato, an Italian-based dessert featuring freshly brewed espresso, served over a scoop of frozen custard. Here, you can choose any flavor you would like; however, they recommend vanilla, chocolate, or maple. I had mine with vanilla and it was incredible!