UMaine's Witter farm climbs to the top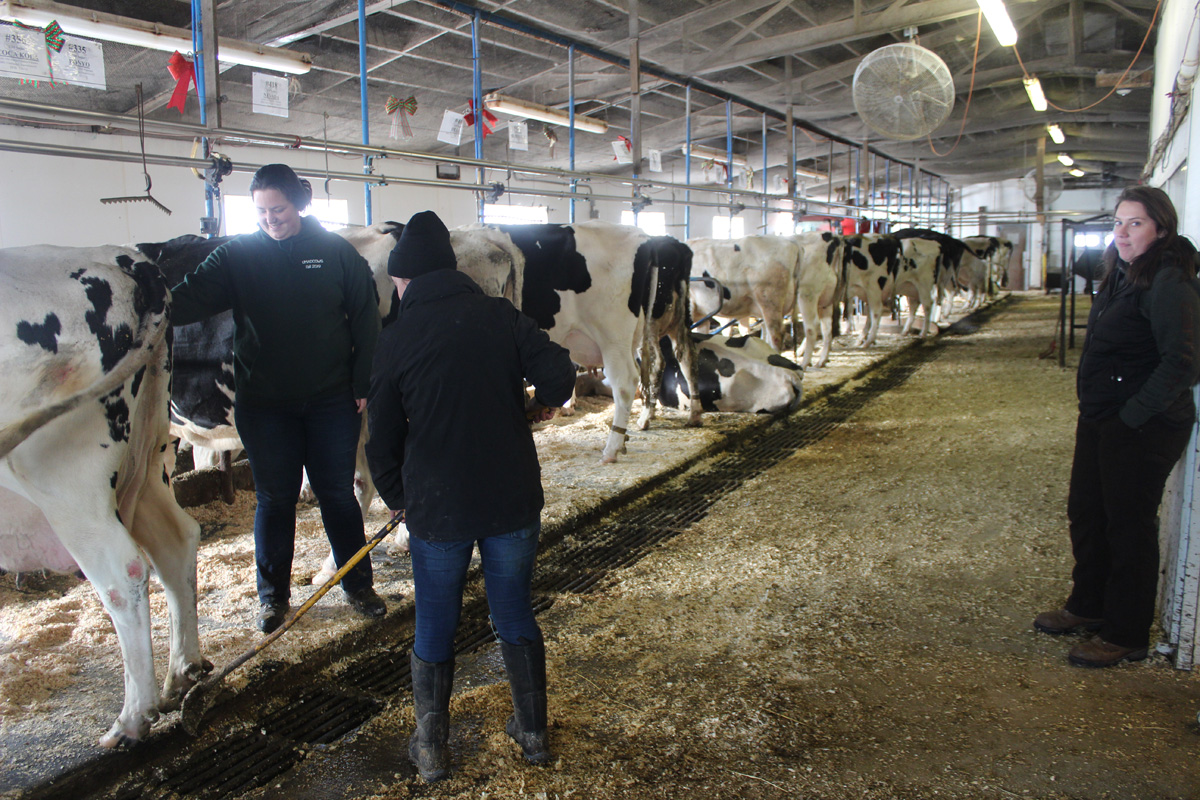 The University of Maine dairy farm in Old Town has always ranked well for its milk quality and quality of cows. However, an especially impressive number of accolades has been bestowed upon the dairy herd at J. F. Witter Teaching and Research Center in the past few months. Most recently, the herd was ranked No. 3 in the nation among college and university herds of Holsteins for 2019. The Witter farm was also recognized by the national Holstein Association with the 2019 Progressive Breeders Registry Award and 2019 Progressive Genetics Herd Award, the only Maine dairy herd to receive both awards.
Registered dairy cows are often "classified" or scored twice a year. In preparation for a classification, cows are prepped and beautified like they would be if they were entering the show ring. Judges will then arrive at the farm and score cows on scale of 100. Judges are looking at the cow's confirmation – her overall frame, her udder, her legs and feet, and her "dairyness" (18 physical traits in all) – and take into account her age, milk production over her lifetime and her current stage of lactation.  Classifiers have incredibly high standards and are not generous with their points and never give perfect scores. Witter's highest scoring cow is 7-year-old Ponyo, who scored a 92EE, and of their current 30 milking cows, four are classified as excellent. Anything 90 and above is considered excellent with those in the 80s being classified as "very good", which is still an incredibly desirable result in the dairy world.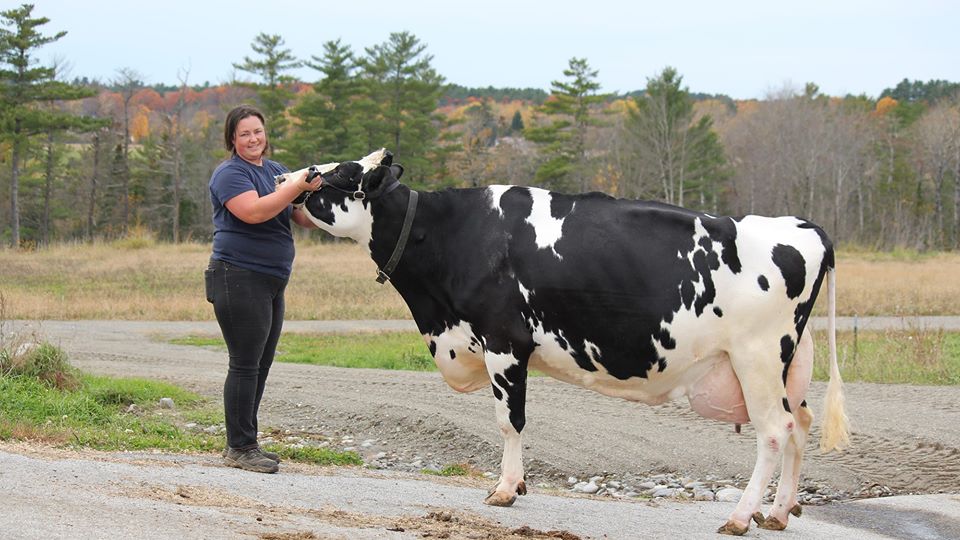 "We've always had a good herd, but I think the emphasis has changed in the last 20 years," says Dave Marcinkowski, UMaine associate professor of animal and veterinary sciences and dairy specialist for the cooperative extension. "It's a research herd, and we used to focus really on milk production. Now we've gone for showier cows. The cows have gotten fancier."
These classifications and the genetics of the farm's calves and young heifers along with milk production are what determine the above mentioned honors given to the herd, but all the scores and awards aren't just for bragging rights. There's a very practical reason behind having good genetics in your dairy herd – better cows are healthier cows. Cows, especially large Holsteins, put a lot of weight on their legs and feet; they need a good foundation on which to stand. They need straight backs that won't sag from carrying a calf or heavy udder. She needs to hold her udder up high to avoid injury and infections. Her teats need to be angled so that she is comfortable when a milking unit is attached. Genetics also help in selecting cows that can produce more milk while using fewer resources, and that are more disease resistant.
Livestock Operations Manager Lizz McLaughlin started at the Witter farm as a student (2004-08) and has been on the staff there since 2009. Among other responsibilities, she is the farm's matchmaker. Cows are bred through artificial insemination, and Lizz will immerse herself in catalogs and reports about available bulls to breed to the Witter ladies in an effort to make each generation just a little bit better than the last.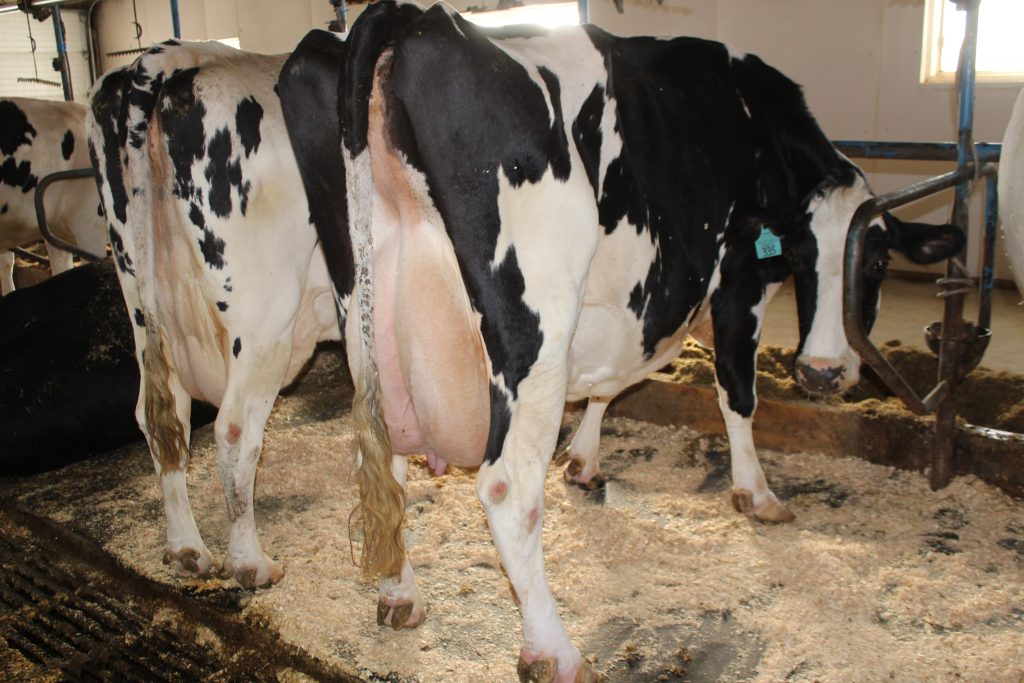 "When it's time to select bulls, I spend an incredible amount of time doing research," she says. Using certain criteria, she can usually narrow the field down to 200 perspective baby daddies from the thousands available, and from there she will select the top five to breed the UMaine cows to. When Lizz started selecting bulls in 2009, the rolling herd average or the average of how much milk a single cow on the farm produced over 305 days (they get a 2 month vacation before they have a calf each year) was 21,000 pounds. Last year, it was 24,000. In 2019, it jumped to 29,995 pounds, or an average of about 98 pounds (a little more than 11 gallons) per cow, per day.
"That 5 pounds really bothered me," Lizz said of missing the 30,000 pound mark.
The jump in milk production isn't solely because of genetics. It's been well-proven that cow comfort and nutrition are important factors in milk production. The farm has been working with a new nutritionist (someone who helps a farm determine the best diet for each cow's optimal health), and the dairy barn has new stalls and beds for the cows.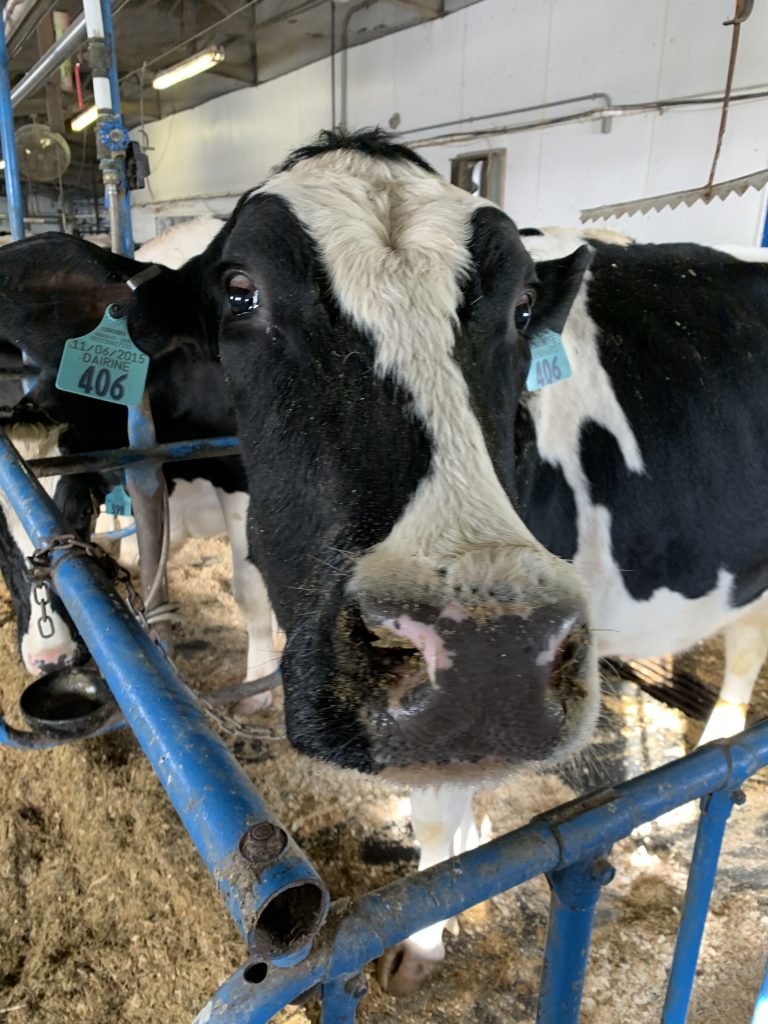 The achievements at the Witter farm are especially impressive when you consider that much of the milking and cow care is done by college students, mostly animal science and pre-veterinary medicine majors, who rotate in every semester and the majority of whom have no experience with cows. Lizz's other responsibilities include training and supervising 24 students at a time as they come in each semester for their mandatory stint on the farm. Students work two shifts a week and have a lab once a week where they learn about dairy farm management. They are also assigned a cow for the semester and have to take care of her calf when it arrives.
"I find that on average one out of 50 has ever seen a cow in real life," Lizz says. "I was the same way when I was a student. I had seen them at the fair but did not have any hands on experience.
"The vast majority does really well, and most of them are really into it. They are here a lot, beyond what they have to be. They learn the importance of doing their part."
Dave credits Lizz's training but adds, "The students take it pretty seriously. They police each other pretty well."
Three students are designated the "herdspersons" each week, meaning they are responsible for tracking the well-being of the herd and making sure all the required tasks are being done by their fellow peers. Students will often come back beyond their one semester to continue to help on the farm as a volunteer or teacher's aide.
The Witter farm has several events through out the year to offer the public opportunities to meet, and sometimes even milk, their award-winning cows. Follow their Facebook page for dates and times along with videos and blog posts from the students working there.